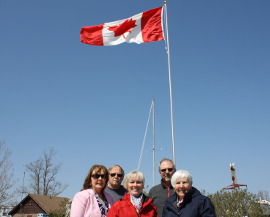 Thanks to the gracious donation of a new flagpole by the Apple Harvest Craft Show Committee, the Municipality of Meaford was proud to display a flag from the Peace Tower at the Meaford Harbour.
On Thursday, May 17, a Canadian Flag that was flown on the Canadian Parliamentary Peace Tower on March 10, 2014 was raised on the newly donated flagpole in Meaford Harbour next to the pavilion. A new flag graces the peace tower every five days in Ottawa. The flag is then taken down and given to Canadians around the country. The current wait list has 16,000 members, with an astounding wait time of approximately 42 years, showing the high demand for this proud symbol of the nation.
"We are so appreciative of the Apple Harvest Craft Show Committee for donating this flagpole. A plaque will be installed in the near future to commemorate their donation. Our beautiful harbourfront is the perfect place to display this symbol of our country," said Mayor Barb Clumpus.
The flag will be replaced with a flag close in size, and the original will be displayed at the Museum. In order to preserve the flag, it will only be raised for special occasions. Next time you visit Meaford Museum, be sure to check out the flag and reflect on our country's amazing history, and how fortunate we are to be part of this wonderful country.