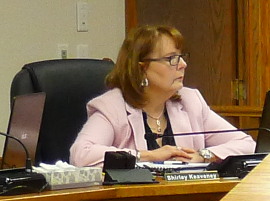 Meaford councillor Shirley Keaveney has filed her nomination papers to run in this October's municipal election – this time as Deputy Mayor.
Keaveney's candidacy brings the total number of candidates to four thus far, all current members of council. Last month Mayor Barb Clumpus announced her bid to be re-elected as mayor, current Deputy Mayor Harley Greenfield decided to run for a regular council seat, and Councillor Tony Bell also filed his nomination papers with the clerk to seek reelection as councillor.
As her first term on council nears its end, Keaveney said that she is excited about the opportunity to serve on Grey County council should her bid for the Deputy Mayor's position be successful. She said that the knowledge and experience she could gain at the county level could help her in making the right decisions for this municipality.
During her term on council Keaveny has served on a number of committees, including the North East Grey Medical Centre board, the Four County Labour Market Board, and the Meaford Heritage committee. She has also served as chair of the Economic Development Advisory Committee which has been working on a number of initiatives including a new branding campaign, soon to be installed gateway signage, and the recent community-wide clean-up.
"I have really enjoyed my first term as councillor," said Keaveney. "It has been rewarding to work with our current council and our talented staff to see Meaford's financial position stabilize, our debt load decrease and to see progress made with our road and bridge rehabilitation plans. There is still much work to be done and I'm anxious to be part of a continued team focus on our infrastructure needs including improved snow removal practices."
Keaveney sees some busy years in Meaford's future with the construction of a new school and library, as well as the possibility of attracting new residents and developments.
"It's exciting to see substantial interest from developers coming to Meaford; we are experiencing growth and broadening our tax base with the arrival of new residents and small businesses alike," said Keaveney. "I'm looking forward to seeing proposed investments come to fruition and am delighted we can support this growth through council initiatives and the great work of our Economic Development committee."
Election day is October 22, and those hoping to campaign for a seat on council have until July 27 to file their nomination papers with the municipal clerk.
Candidate packages are available for pick-up at the municipal administration office at 21 Trowbridge Street West, and online at www.meafordvotes.ca. Candidates are asked to make an appointment with the Clerk's Department to file their nomination papers.
Information about nominations:
Nominations are open from May 1 to July 27, at 2 p.m.

Filing fees are $200 for Mayor or $100 for Councillor or Trustee.

Photo ID must be shown at time of filing.

Nomination forms must be filed before candidates can accept election contributions or incur campaign expenses.
For information on the municipal election, visit www.meafordvotes.ca, email election@meaford.ca or call 519-538-1060.