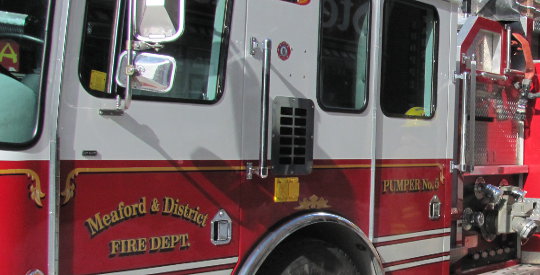 The Municipality of Meaford is developing a ten-year Fire Master Plan, and as part of this process they would like to hear from the community.
The municipality is protected by two fire services, the Meaford and District Fire Department and the Inter-Township Fire Department. The departments respond to a variety of calls that may include general assistance/information inquiries and responding to emergency incidents such as motor vehicle collisions, fires, or medical emergencies.
"In our ongoing efforts to ensure that the Municipality is meeting the needs of our community, we are creating a ten-year community-driven Fire Master Plan to guide operational improvements and enhance how the service is provided throughout the community," said the municipality. "To accomplish this, we have engaged the services of Emergency Management & Training Inc. (EMT), a consulting firm that has worked with many fire departments in developing their Fire Master Plans, station assessments, and fire service reviews across Canada."
Most of all, the municipality needs your help. Please take the time to complete their survey at www.surveymonkey.com/r/MeafordCommunitySurvey. Your confidential responses will help to ensure focused action that continues to meet the diverse needs of all residents.
The survey will be available until August 4.