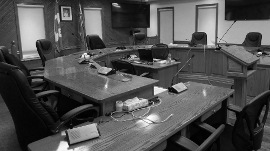 After the closure of the nomination period for October's municipal election at 2:00 pm on Friday July 27, voters in the Municipality of Meaford will have a number of candidates to consider thanks to a flurry of nominations filed with the municipal clerk over the final two days before the deadline.
This year's mayoral race will look familiar to voters as the same three candidates who squared off in 2014 are set to do it again. Incumbent Barb Clumpus will face a challenge for her seat from former councillor Jim McPherson, and former mayoral candidate Ray McHugh.
For Deputy Mayor, voters will have two candidates to consider with current councillor Shirley Keaveney and David Long who was a candidate in the last municipal election hoping to secure the position.
A total of eleven candidates will be seeking votes to fill five council seats. Two incumbents, Councillors Tony Bell and Steven Bartley will be joined in the race by current Deputy Mayor Harley Greenfield along with Amie Foster, Karen Kay, Ross Kentner, Diane MacIntyre, former mayor Frances Richardson, Robert Uhrig, Paul Vickers, and former councillor Deborah Young.
School board candidates are included in the list below.
In the coming days The Meaford Independent will be sending surveys to each candidate in preparation for full candidate profiles to be published in the weeks to come.
The final list of candidates for October's municipal election as of the deadline at 2:00 pm on Friday July 27, are as follows (Nominations will not be officially certified until Monday, July 30, 2018):
Mayor:
Barb Clumpus
Ray McHugh
Jim McPherson
Deputy Mayor:
Shirley Keaveney
David Long
Councillor:
Steve Bartley (I)
Tony Bell (I)
Amie Foster
Harley Greenfield
Karen Kay
Ross Kentner
Diane MacIntyre
Francis Richardson
Robert Uhrig
Paul Vickers
Deborah Young
School Boards:
Morgan, Frances - School Board Trustee, Bluewater DSB
Bethune, Norman - School Board Trustee, Bruce-Grey Catholic District School Board
Belcourt, Guy - School Board Trustee, Conseil scolaire Viamonde
Caruso, Saveria - School Board Trustee, Conseil scolaire Viamonde
Lapointe, Eric - School Board Trustee, Conseil scolaire Viamonde
Alary, Alexandre - School Board Trustee, Conseil scolaire catholique Providence