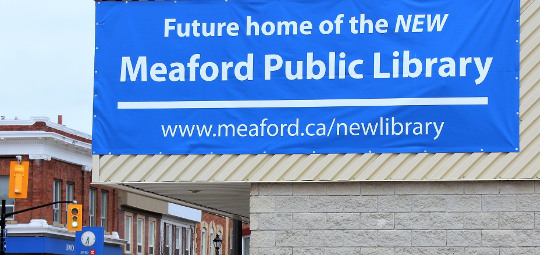 Representatives from the Meaford Library Fundraising Committee provided an update to council on Monday, September 24, and while fundraising for the new library has gotten off to a slow start, the committee is hopeful that contributions will increase in the new year.
The library fundraising committee has committed to raising $750,000 to help fund the new library, which is estimated to cost roughly $5.5 million. The committee began its fundraising initiatives for the new library nearly a year ago in October of 2017, and as of August 31, they have raised $169,792.
One hurdle the committee says they have faced is that the new library has become an election issue for some candidates, with some suggesting that the project can or should be halted, leaving some potential donors hesitant to contribute to a project that some suggest might not happen.
"Donations have trickled in from patrons, residents, and some businesses, however there is much speculation, and in fact outright statements that a new library is an issue in the upcoming election," committee member Elaine Burns told council. "Understandably businesses and individuals are concerned about giving money until they feel their money will be safe."
Burns told council that for those opposed to the construction of the new library she wonders how they plan to meet provincial accessibility legislation which will be fully implemented by 2025.
"To those candidates not supportive of this plan, I beg for clarification as to your alternative for an accessible library," Burns noted. "There is no accessibility now – to fix the current building by 2024 is going to cost in excess of $3.5 million."
Prior to settling on a plan to purchase the vacated Foodland grocery store building at the corner of Sykes and Trowbridge Streets for the location of the new library, council and the municipality explored a number of options over a period of several years, including renovating the current building in order to meet the coming accessibility requirements, but the costs proved to be prohibitive when compared to constructing a new library on a different site.
Burns, along with committee chair Peter Bantock, told council that they have held a number of fundraising events and initiatives thus far, and more are planned for the coming months.
"We are hopeful that once the contract for the work (on the new library) is signed, the confidence in the project will skyrocket, and so will the donations," Bantock told council.
Councillors were also hopeful that the committee will succeed in generating donations in the coming months.
"This is a huge, huge benefit to our community. I am certainly supportive of the efforts that you folks have put forward. You have been working very, very hard," Mayor Barb Clumpus told the fundraising committee members. "So I wish you the greatest of luck. The key here for all of us to really understand and focus on is accessibility. This is the main reason for why it has taken us 15 years to come to the point that we are at now where accessibility will be dictated (by the province) in 2025, and of course it's important that we get there well before that."