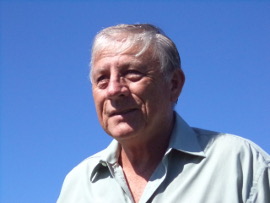 Candidate Name: David S. Long
Position Sought: Deputy Mayor
Email: thebottomlinemeaford@gmail.com
Phone: 519-599-7019
Bio:
I was born in the industrial city of Birmingham, England where I lived for 12 years before moving to Devonshire, which is both a tourist destination and a thriving agricultural area.
At the age of 18, I left England and traveled the world, working in Southern Rhodesia, Bermuda and Australia. I traveled all over the USA and Mexico by Greyhound bus before finally arriving in Canada in 1966 where I joined the Metropolitan Toronto Police. I worked in various divisions, bureaus and units specializing in case investigation and prosecution and worked on joint projects with the OPP before retiring with the rank of Detective Sergeant. During my Police career, I obtained a Certificate of Criminology from the University of Toronto, a Business Management Diploma from Ryerson University and attended numerous management courses. In 2004 my wife and I built our home on 50 acres of land in eastern Meaford where we now operate Redhills B& B. I know the needs of both urban and rural residents.
Why I am running for Meaford council:
We have an ageing (38% over 60 years of age) declining population (11.5% live alone) with an after tax median income of $29,445. (considerably below the provincial average) We all want more and better services but we simply cannot afford to keep raising taxes. I believe that we must be more efficient when spending our tax dollars. We will do more with less.
This council has no vision, no long term plan for the future. When we look at our neighbours , we see planned growth resulting in increased employment, customers for local businesses and an increase in revenue from an enlarged tax base. My plan is to encourage growth,and provide good jobs for those needing them , the result being a decrease in crime and more prosperity for seniors.
I believe that all residents of our Municipality should be treated equally and fairly. I am concerned that the so called 'differences' between urban and rural, old and young , us and them will continue. I can and will listen realistically to all points of view and will promote the concept that 'unity is strength'
I do not believe that ANY elected Municipal position should be ACCLAIMED. There must be informed CHOICE.
My Top Priorities if Elected to the New Council:
To fix our infra-structure, namely roads and bridges . Good roads and bridges are vital to our rural wineries, dairy, mixed farming and tourist economies. They all depend on the connectivity of our road system which includes many bridges that have had their weight bearing capacity reduced in successive years. This council knows of these unsafe roads and structures and that they not only result in increased costs to businesses but leaves all Municipal taxpaying residents open to the danger of civil suits and, another lawsuit against all taxpayers is not what we need.

To raise revenue. Council must realise that we are a small population in a large geographical area. With a stagnant tax base, we have a limited source of revenue with which to supply and improve our service needs. Our first priority therefore must be to encourage and support growth, primarily in the town where demand is greatest. An increase in our tax revenue will support services throughout the whole of the Municipality.

To lower costs. How many times have you tried to work your way through the Municipal website? How long have you spent trying to reach a living body at the end of a Municipal phone number? How much wasted time have you spent sitting in the Municipal chambers listening to pointless ramblings? There is a municipality to the south of us with the same size population and same number of council members. At a single council meeting, they covered and dealt with 47 points on the agenda in 2 hrs.14 minutes. Why? Because they were organised. We have to organise , simplify and streamline all of our operations and procedures in order to become more time efficient. We have to think smarter and not forget that 'time is money'

To reduce taxes. A recent letter to this newspaper indicated that the writer would not vote for anyone who promised to lower taxes for the simple reason that such a thing was impossible. If the writer checked information provided by accountants BDO, note 11 of the yearly financial reports, he would find that in the past 8 years, over budgeting by staff has resulted in our hard come by tax dollars going into a massive reserve. It is like paying a tax on a tax, totally un-acceptable.

To communicate. 'A little learning is a dangerous thing' (Pope) Everyone, especially the councillors elected next October must realise that no one person knows everything. Gag orders and by-laws prohibiting free speech are not acceptable in this Municipality. By holding town hall meetings, having debates, consulting with groups, forming committees, asking questions, we can all increase our knowledge .Perhaps more importantly, if we communicate with un-biased knowledgeable persons, we ourselves can become more knowledgeable and all this information is free!
My Involvement in the Community Over the Past Four Years:
In 2006 my wife and I opened Red Hills Bed & Breakfast and in 2010 I founded ABBBE.com (A Better Bed & Breakfast Experience) a unique not for profit website which advertised B&B's from Stayner to Wiarton in conjunction with promoting local tourist attractions. After only two years, ABBBE.com became the third largest B&B association in Canada. For this effort, I won second prize at the Meaford Dragons Den contest even though ABBBE.com was not a business and was a joint winner with the Scarecrow Invasion of the Tourist Business of the year award. I have been an active member of the Meaford Chamber of Commerce; a member of numerous economic development advisory boards and a founding member and editor of thebottomlinemeaford.com. The TBL besides the web site has organized regular discussions and debates involving present council members and concerned residents of MOM (Municipality of Meaford), the last one being 'The Great Debate' chaired by Meaford Independent Edtior, Stephen Vance. Being an animal lover, I am pleased to announce that I have just recently been appointed Vice President of the Grey Bruce Animal Shelter. On the recreational side of life, I am a co-founder and member of Lord Grey's English Country Dance Society, which holds dance workshops from September to May in Clarksburg.
The Role of Deputy Mayor as I See it:
The main duty of a Deputy Mayor who is an elected member of council, is to serve as acting mayor in the Mayor's absence. The deputy should assist and support the Mayor and 'assumes mayoral duties in the event of a mayor.s absence due to death, physical incapacity, impeachment or resignation' The Deputy Mayor of Meaford also has a position on the Grey County board.
The Skills I Will Bring to Council:
A sense of humour.

Experience in Man and Woman management .

An ability to listen.

Know how in achieving goals.