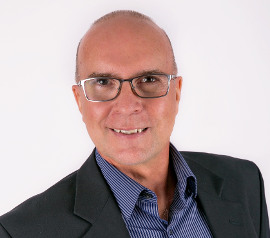 Candidate Name: Robert Uhrig
Position Sought: Councillor
Email: rjuhrig56@gmail.com
Phone: 519-377-3570
Bio:
Raised in rural Meaford, like so many, after my education I was forced to leave the area to seek employment elsewhere including:
Business: Middle to senior management positions for most of my career:
15 years in Sales, Marketing and Customer Service Management

10 years as General Manager of a manufacturing company in Mississauga.
Arts & Culture:
Published songwriter for over 10 years

Administrative Director of the Grey Bruce Arts Council for 4 years
Public Service:
Served on the Board of Directors of York Condominium Corporation for the past 15 years

the last 10 as President
Happily married, my wife, Derris, and I returned to Meaford in March to be closer to her daughter Joslyn and our 2 grandchildren.
Travel is our strongest addiction. I believe seeing and understanding other parts of the world make us better citizens and assist us in making better decisions about our own community.
I enjoy and participate equally in sports and culture. My wife and I regularly attend concerts, plays and other cultural events. I enjoy reading and continue to write songs and screenplays, and play basketball, badminton, tennis and golf, just not as frequently as I would like.
Why I am running for Meaford council:
Recently, I was fortunate to find a new position locally and once settled, I decided I would like to give back to the community that raised me. I have always believed that this is a wonderful place to live and raise a family. While it is experiencing growth, I believe it continues to fall short of reaching its' full potential. We have some of the most beautiful waterfronts in the area yet they remain mostly untapped. Our main street holds the potential to be a vibrant centre yet businesses struggle and empty storefronts remain. Raised on an apple orchard, I am pleased to see our rural areas are growing in popularity with new Cidery's and Winery's drawing visitors from near and far.
Attracting industry is difficult for any small community and of course, with no major industry, the tax base falls heavily on its residents. Accordingly, Meaford's taxes are much higher than neighbouring municipalities and need to be offset by other means. In my opinion, small organic businesses need to be fostered and supported; and tourism and culture related initiatives need to be embraced to a) raise the profile of the area, and b) stimulate economic development throughout the Municipality.
My Top Priorities if Elected to the New Council:
Maintain a balanced responsible budget and stimulate economic development.

Examine the current tax structure and rates and identify ways to bring us more in line with our neighbouring communities.

Examine our policing budget and determine if we should have a more prominent OPP presence and Detachment.

Foster new, and support existing small businesses throughout the municipality.

Develop the waterfront to become a focal point of our community.

Support cultural and tourism projects as they provide financial stimulus and visibility.

Re-examine our municipal boundaries. It has been 20 years since the amalgamation and it should be reviewed to determine its successes and failures.

Steward our identity! What is Meaford? A bedroom community, a waterfront community, a tourist destination? We need to decide what we are before we can establish proper steps to achieve that goal.
My Involvement in the Community Over the Past Four Years:
I have served on the Board of Directors at our Condo Board (YCC26) in Toronto for the past 15 years, the past 10 as President. This experience has enabled me to understand and appreciate the importance of contributing to ones' local community, and learn the intricacies of being part of a Board and successfully administering a Corporation.
The Role of Councillor as I See it:
I believe a Councillor needs to:
- assess and represent the needs of the entire community
- seek the necessary guidance and information to be well informed in making decisions for the Municipality
- maintain the guidelines of the Municipal Act
- be responsible for the finances of the Municipality, and ensure that strong and accurate budgetary measures are enacted and maintained
- be accountable, with complete transparency, for decisions made on behalf of its residents
- direct the municipal staff to carry out the Council directives
- work together with his/her fellow Councillors to best serve the community
- act professionally and ethically
The Skills I Will Bring to Council:
I have a wealth of experience in the Arts & Culture, Business and Management arenas. I believe my integrity, honesty, respect and common sense are essential components that would make me a successful Councillor.
I do not believe in making bold statements like, I will lower taxes, or I will bring more jobs! The Town Council is a team environment and while it is important for the members to have a unique individual voice and vision, it is imperative that they work together to achieve a common goal that benefits the whole Municipality.