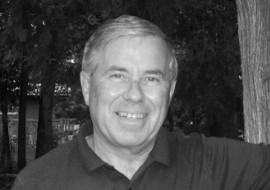 Candidate Name: Francis Richardson
Position Sought: Councillor
Email: frichardson@outlook.com
Phone: 519-379-5998
Bio:
I am a 5th generation resident of Meaford and St. Vincent area of South Georgian Bay. My great grandfather was Mayor of Meaford in 1878 and 1880. My grandfather was Deputy Reeve in 1930 and my father was seven years on council and Mayor in 1956-57.
I spent 39 years in education, teaching & administration in Oakville, Toronto & Windsor.
After retiring back to my hometown, I was elected Councillor for the Municipality of Meaford in 2003. I was elected Deputy Mayor in 2006 and assumed the position of Mayor in 2008. I was returned to the position of Mayor in 2010.
I am very active in the Anglican Church both at the parish and the diocesan level. I have been Warden and/or Deputy Warden at my parishes in Windsor, Oakville and Meaford. I am Secretary of the Diocesan Brotherhood of Anglican Churchmen and am currently a licenced lay-reader at Christ Church in Meaford as well as the church treasurer.
I am the treasurer of the Royal Canadian Legion, Branch 32 in Meaford.
I am also treasurer for the Friends of The Barn, a charity organization providing Arts, Education and Health & Wellness programmes for all people in our community.
Why I am running for Meaford council:
Meaford is a fabulous community that I have always called "home".
I thoroughly enjoyed my time on council from 2003 to 2014. I do not see it as politics; it is community service. I was so fortunate to be born & grow up in Meaford. I am very happy to give back to a community that gave me so much.
Meaford has tremendous potential and some real challenges in the immediate future.
I pledge to do my best to deal with those challenges and realize that potential.
My Top Priorities if Elected to the New Council:
One top priority is our infrastructure. We need to continue to improve, repair & replace it. To do that we must continue to lobby for Provincial & Federal grants. Our local taxpayers are not able to bear that burden alone.
Another priority is to increase the commercial base of our community. That is both stores in our urban areas and agricultural development. We have a significant orchard development about to start. We also need to "encourage" the developers that own a significant portion of our land to start to build what they have promised!
We have several housing developments with approvals in place. We need to help them in every way we can, including speeding up approval & permit processes.
My Involvement in the Community Over the Past Four Years:
In the time since I stepped out of council 4 years ago, I have continued to be active in my church community. Through Christ Church, support groups were formed to bring 2 Syrian families to Meaford. One family arrived 3 years ago and the other just 4 months ago. Both live in Meaford. One is very familiar to us from the food he provides at the Farmers' Market.
I have been a member of the Royal Canadian Legion, Branch 32, since I returned home. This spring I was elected as treasurer.
The Friends of The Barn was created several months ago. I am the treasurer of this charitable organization. "Our mission is to promote health, wellness, traditional knowledge, music, the arts, local, organic, ecologically-grown food & community building. FOTB offers arts, music & educational programs to all ages and strives for them to be accessible to all, including those with disabilities & low-income." We are continuing to do this and looking for locations to replace the space we had at The Barn.
The Role of Councillor as I See it:
The council of a municipality is the group that provides leadership for the infrastructure that a community uses in general and publicly. The leader of the council is the mayor, but all have an equal voice in all aspects and decisions. Council decides the path the municipality is to take and then hires a staff to implement the policies that are put in place. It also provides for the well-being of its citizens by encouraging good economic development and partnering with the county, the province and the school board to provide health and education.
The Skills I Will Bring to Council:
I bring the skills and expertise I learned in my previous 11 years on council. Through my educational profession, I have learned to work well with people in individual or group situations. I am a good listener and will continue to be available, as I was before, to all who want to talk with me. My career has taken me to other parts of our country & world, so I have a broadened view that will help Meaford fulfill its expectations.