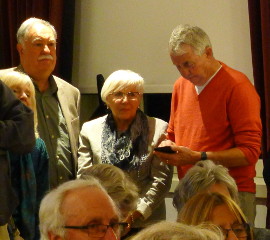 The 2018 municipal election results arrived a day late thanks to technical issues with the electronic voting system, forcing the municipal clerk to extend the voting period by 24 hours, but Meaford voters have elected a new council.
A total of 4,515 residents cast ballots in the election, for a voter turnout rate of 43.8 percent, down from 50 percent in the last two municipal elections.
Mayor Barb Clumpus held on to her post, earning 2,208 votes. Jim McPherson had 1,436 votes, and Ray McHugh received 749 votes.
Meaford's new Deputy Mayor will be Shirley Keaveney, who opted to take a run at the position rather than run for re-election to her council seat. Keaveney earned 2,906 votes, while her opponent David Long received 1,451 votes.
There will be two new faces on council, as candidate Ross Kentner (3,180 votes), and Paul Vickers (2,429 votes) each earned enough votes to capture a seat, as did incumbents Steve Bartley (2,436 votes), and Tony Bell (2,485 votes). Rounding out the new council roster will be Harley Greenfield who decided to run for a regular council seat rather than seek re-election to the position of Deputy Mayor.
The votes earned by the remaining council candidates were as follows:
Foster, Amie – 957

Kay, Karen – 943

MacIntyre, Diane – 1,398

Richardson, Francis – 1,200

Uhrig, Robert – 1,408

Young, Deborah – 868
Mayor Barb Clumpus told The Independent that she was pleased with the results of the election, and she is looking forward to her second term as mayor.
"It's been a really good, solid campaign, and first of all I want to thank my team. The good hard work we've put in these last four years, and the successes we've had, has set the course for us, and provided us with the record that we all ran on, and I'm grateful and proud of them all," said Clumpus after the results were announced at Meaford Hall on Tuesday night.
Asked what the top priorities of the new council will be, Clumpus said that roads and infrastructure are the obvious top priority, but she said that she also wants to work towards improving housing options in the municipality.
"Certainly diversified housing to meet the needs of our community, and to encourage development that will meet the needs of our community is a priority for me," said Clumpus.
Photo: Mayor Barb Clumpus while waiting for the municipal election results to be announced at Meaford Hall on Tuesday October 23. Clumpus was re-elected to the mayor's position, beating out opponents Jim McPherson and Ray McHugh.