Meaford's newly elected council was installed at a special inaugural session held in the Meaford Hall opera house on Monday, December 3.
Before an audience of approximately 200 – many were friends and family of the council members – Meaford's re-elected mayor, Barb Clumpus, along with new Deputy Mayor Shirley Keaveney and Councillors Steven Bartley, Tony Bell, Harley Greenfield, Ross Kentner, and Paul Vickers were escorted into the hall accompanied by the sounds of a piper and flag bearers.
Ontario Superior Court Justice Herman Wilton-Siegel was on hand to conduct the declaration of office for each of the members of the new council.
After each member of the newly elected council had completed the declaration of office, they were given an opportunity to say a few words to the audience. Here is a sample of what each member of council had to say: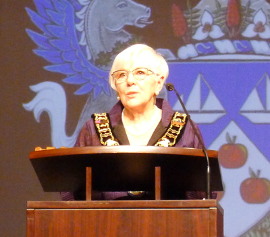 Mayor Barb Clumpus:
Our community groups and service clubs play such an important role in making our community work, and it is so great to see so many representatives of these organizations here with us today. I want to thank the many volunteers who make our community the welcoming, inclusive, and inviting community that it is.
By this formal ceremony we have promised to uphold the bylaws of the Municipality of Meaford, and the delivery of good governance. We take this responsibility very seriously, and we commit to conducting the business of the corporation with dignity, integrity, and respect for all.
A symbol of this responsibility, and of my commitment as the head of council is this chain of office which the mayor wears at council meetings and on formal occasions such as today. But this one is very special indeed. A goal of the 2014 to 2018 council was to nurture a sense of unity in our amalgamated municipality by creating an official coat of arms that reflects the diverse character and the importance of the founding communities. The links on this chain celebrate each one of the hamlets, villages, crossroads, or settlement areas, our history, our heritage, and our future, and I am so proud to wear it today.
I am truly humbled by the faith and the trust that you have put in me. I know this cannot be taken for granted, it must continue to be earned. With this in mind, I believe that a measure of success of a society, and particularly of its leadership is first financial stability, followed closely by compassion for our most vulnerable citizens, the protection of our environment, and our heritage, and the accessible, inclusive, and fair advancement of the quality of life for everyone in our community.
I am encouraged by the strong mandate that you have given us to continue this direction set by the previous council. This new council will revisit the strategic priorities of investing in infrastructure, leading in municipal government, strengthening our community and ensuring sustainability to align a new, progressive, and measurable implementation plan. I am so inspired by what lies ahead in the next four years. We are continuing to receive grants to attend to our roads and bridges, diversified accommodation including retirement, expanded long term care, and attainable housing. Those opportunities are on the very near horizon.
Renovations to the new home for our library will get underway in the spring, and construction on our new awesome school is set to go to tender in early 2019. The sustainability of our hospital is secure with a fully integrated operating room for elective surgeries, and new programs coming forward. Building permit statistics indicate another record year of residential growth which will share the property tax burden and encourage new businesses. Our future is very exciting indeed.
There may be challenges ahead dealing with issues that are important to you our residents and the business community, but I am confident that with a unity of purpose, and by working together with our community and neighbouring partners, we will find solutions. The council team you have assembled here, aided and supported by our highly capable and dedicated staff, will resolve whatever lies ahead with thoughtful, respectful discussion in the pursuit of health and well-being and harmony for our whole municipality.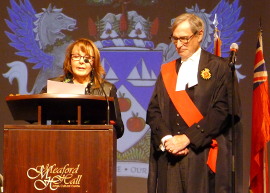 Deputy Mayor Shirley Keaveney:
I am excited and honoured to have been elected as your Deputy Mayor for this upcoming term of council in this great municipality of Meaford. I am equally looking forward to representing your interests at the Grey County table. Four years sure passed quickly in the world of municipal politics. As a council we accomplished many good things. We fixed roads and bridges, we upgraded the arena and docks at our harbour, we purchased land for our new library, all while rebuilding our reserves, and keeping tax increases as minimal as we could. There is much more work to do though. Councils at both the municipal and county levels will have many budget decisions to make in relation to our infrastructure. I believe road and bridge reconstructions are necessary to create an environment that will succeed in attracting new residents and businesses to this area. We know significant growth is on our doorstep, the important discussions regarding initiatives to foster this level of economic development will be ongoing at both levels of governance. I want to see right projects for Meaford, ones that reflect our heritage and will be appropriate to our needs.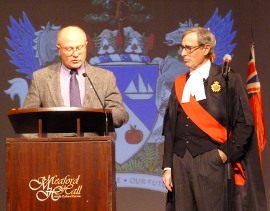 Councillor Steve Bartley:
I thank all of the people of the municipality who really encouraged me to push on... but most of all I'd like to thank my wife. My confidant, my partner, but most of all, my best friend, I love you. Now, I've never been so excited about a group of people in my life. Five of us were incumbents, a great group of people. I am so happy with the people we have. Two of the strongest women I know are going to lead us and move this municipality forward in leaps and bounds.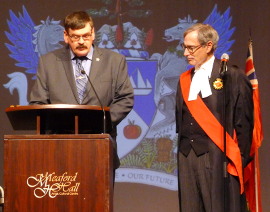 Councillor Tony Bell:
I'd like to start with a really huge thank you to my wife, who on a second attempt at being elected knew exactly what was lying ahead; how many hours I'd be missing from home, how many meetings that I would be attending, and I couldn't do this without the support and the love of my wife who no matter what I do in my life has always been faithful and walks beside me. I want to thank the people who voted for me for a second term, you knew what you were getting and you supported me. I truly believe that we have the finest assembly of folks to represent this municipality, from all areas of the municipality and I look forward to serving with them over the next four years – I think we're going to be terrific.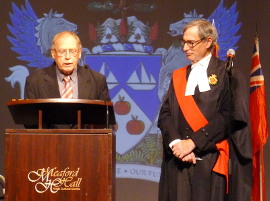 Councillor Harley Greenfield:
I have been given advice not to thank my spouse this afternoon, and since I know she's always bang on with her decisions, I will move right along. We've got a great team, we've got a lot of potential, but it's up to us ladies and gentlemen to fulfill that obligation, so now it's up to us to come through. A great team on paper doesn't necessarily win the Stanley Cup. We've got hard work to do, and I know we are ready, and able, and excited about doing it. We will give you the best governance we possibly can, but we need your help, we need your assistance, we need your opinions, your questions, your comments. Together we can move this municipality forward over the next four years.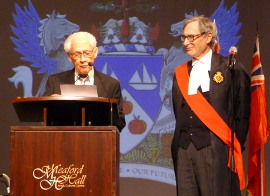 Councillor Ross Kentner:
I've spent more than 55 years in media, much of it as a journalist, and it has been my observation that the majority of people that hold public office hold very high ideals, shoulder a heavy workload for modest compensation, and a similar level of taxpayer esteem. At the same time I have admired a great number of local politicians over the years, and their examples have convinced me that the foundation of our democracy lies in administering our local municipalities, and now that I have the opportunity, I would like to accept the challenge of public service and try to give something back to the community that has given me so much.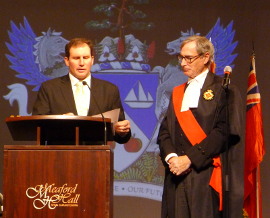 Councillor Paul Vickers:
I have many people to thank, some of those people are with us, and some of them aren't. My father was a councillor, and it truly is an honour to follow in his footsteps... I look forward to working with all of you, and I thank you very much.