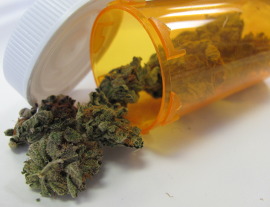 After an extensive consultation with the public, which saw an unprecedented 859 survey responses, Meaford council voted in favour of opting-in as a potential host to cannabis retail shops. All municipalities in the province have until January 22 to opt in, or opt out.
Of the 859 survey responses received by the municipality, 614 supported the establishment of cannabis retail shops in the municipality, while 227 were against the idea, and another 18 respondents were undecided on the issue.
While 71 percent of the survey respondents supported allowing cannabis retail shops in the municipality, just one councillor voted against the resolution, suggesting that Meaford shouldn't rush into supporting cannabis shops but rather should wait to see the impact on other communities.
"I know the people I've talked to, likely seven out of ten say support opting-in. I'm still not of the opinion that we need to rush into this," suggested Councillor Harley Greenfield, pointing to some larger municipalities that have opted out of consideration for cannabis retail shops.
All other members of council supported opting-in, with many suggesting that cannabis is now a legal product in Canada, and consumers should have access just as they do with alcohol and tobacco.
"Personally I don't see any difference between cannabis, alcohol, and tobacco, and if we allow corner stores to sell tobacco, and liquor stores to sell liquor, there's no reason we can't sell cannabis if it's legal to do so," said Councillor Steve Bartley.
Deputy Mayor Shirley Keaveney noted that cannabis is already prevalent, and used by many residents of the municipality.
"I recognize that cannabis is here to stay, and people are using it, many people I know are, and lots of people that are close to me could be and are talking about it. People are using it to relieve pain, to ease anxiety and depression, to lessen their seizures, to manage and potentially cure diseases and ailments, and it's working," said Keaveney. "I know we've got doctors locally and medical people who are endorsing the use of cannabis, and it just makes sense to me that we would allow and encourage an environment where people can get education, and buy products they know are safe."
While council has officially opted in, it is unlikely that Meaford will see a cannabis shop opening soon, as the province has announced that in 2019 just 25 retail licences will be awarded, and those will go to those wanting to establish a cannabis shop in communities with populations of 50,000 or greater.