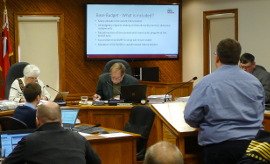 After hearing from ratepayers at a public input session held at Woodford Hall on February 6, Meaford councillors got to work on Monday, February 11, finding ways to trim the proposed 2019 budget in order to lessen the required rate increase for the coming year.
Before they got to work, Meaford Treasurer Darcy Chapman told council that staff had done all they could to contain costs, and should council want further reductions, they would need to consider reducing or eliminating services.
"Where we are right now is a total of 4.06 percent (increase). I think it's important to note right now, I want council to be aware that the reality is this community should be expecting between a four and five percent increase in (property) taxes every year for the next decade, that is the reality," Chapman told council.
Chapman noted that council has committed to addressing the infrastructure needs within the municipality, and they have directed staff to include a 2.5 percent increase each year strictly dedicated towards roads, bridges, and facility infrastructure. Chapman explained that in order to achieve a four percent rate increase, all other costs must not increase by more than 1.5 percent.
"We will not be able to reduce the operating budget unless you reduce levels of service. There has to be an expectation that our annual operating costs will go up by at least 1.5 percent give or take every year, so at a minimum we will be looking at a four percent increase every single year for the next decade so long as we maintain our investment in infrastructure at 2.5 percent a year, and maintain every service that we are providing right now. That is the cold and stark reality of our budgets from here on out. Not just for this four year term of council, but the next, and the next and the next."
Council had previously balked at a budget framework that had proposed a maximum rate increase of 5.6 percent for the coming year, and they sent staff back to the drawing board in hopes of achieving a budget with a maximum increase of 3.65 percent. However Chapman told council that the closest staff could come without impacting existing services was to propose an increase of 4.064 percent.
During their budget question and answer session on February 11, councillors did manage to find some cost savings. Councillor Tony Bell found support for removing the proposed purchase of artificial ice for the arena from this year's budget, shaving $80,000, and Councillor Steve Bartley found support from his fellow councillors for reducing the proposed cost of living wage increase for municipal staff from 2.3 percent to 1.65 percent, in line with the increase county workers will receive in 2019. Chapman told The Independent that the reduction in the staff wage increase will shave another $33,000 from the budget.
After council's budget question and answer session, staff will revise the budget to reflect the changes requested by council and will present a final draft budget for council's review on February 25. A statutory public meeting is planned for March 11, with a goal of council approving the final budget for 2019 on March 25.