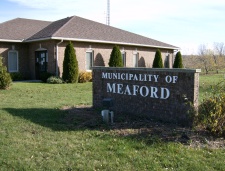 Meaford's council is hoping that a revamp of the municipal Coat of Arms will send a strong signal that the municipality is serious about the inclusion and unity of all parts of the municipality.
At their March 9 meeting, council approved a plan to create a Coat of Arms, that will see a community working group chart their way through the process.
Newly-elected councillor, Tony Bell, brought the idea to council shortly after the municipal election, when he asked if the mayoral chain of office could be revised to include symbols that would represent all three of the former townships which were amalgamated in 2001.
The working group tasked with navigating what municipal Clerk Robert Tremblay has characterized as a complicated process includes the following members:
Mayor Barb Clumpus, Deputy Mayor Harley Greenfield, Councillor Tony Bell, former MPP and Reeve of Sydenham Bill Murdoch, former Meaford Mayor Francis Richardson, former Meaford Mayor and St. Vincent Reeve Gerald Shortt, former Sydenham councillor Linda Van Aalst, and community members deeply involved in Meaford history Marjorie Davison and John Kerr.
Coats of arms, flags and badges are officially granted by the office of the Governor General of Canada. The process involves making a formal request, submitting historical information, developing a written description and the preparation of a design before the drafting of a grant document.