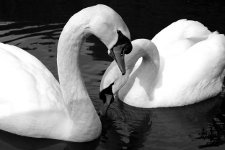 The swans that went missing from Meaford's Lakeview Cemetery in November will not be replaced according to Director of Community and Cultural Services, Dan Buttineau.
Buttineau told council at their March 23 meeting that since the swans went missing, many residents have suggested that the municipality should not be caring for swans at the cemetery, and municipal staff agree.
"Our recommendation today is that we agree with the position that residents have expressed, we are not recommending that we replace the swans," Buttineau told council.
The swans have long been a popular feature of the cemetery, so much so that last year, the community was invited to submit names for the swans. In April of 2014, the municipality announced a contest seeking names for the two swans who reside at the cemetery, and the winning entry saw the swans named "Ambrosia" and "Snow". Those were the names submitted by Meaford residents Brad Johnston and Marianne Ribey. Johnston attended the July 28 meeting of council for the announcement of the names, and he was presented with a plaque that included a photo of the swans with their names engraved. Ambrosia and Snow are both varieties of apples that have been grown in the Meaford area.
What happened to the swans is still a mystery Buttineau said. There was no evidence of an attack by another animal, and though there were some potential sightings in November, they were never found.
Council agreed with the staff recommendation, and one member of council shared some first-hand swan experience.
"I was a keeper of swans," Councillor Steven Bartley told council. "They are beautiful, but they can be nasty. Unless you cage them in, they will not stay."