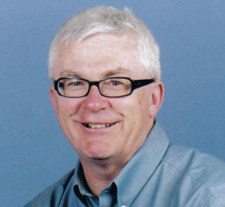 After the announcement that Meaford Mayor Francis Richardson will not seek re-election in 2014, Meaford will have a new mayor, and a former councillor – and mayoral candidate in 2010 – Jim McPherson is hoping to be that new mayor.
After serving a term on Meaford council, McPherson decided to make a run for the Mayor's seat in 2010. In spite of a mid-campaign accusation by Richardson and former CAO Frank Miele that a supporter of McPherson had been behind a blog that was highly critical of Mayor Richardson – an accusation that was later proven in court to be false – McPherson lost to Richardson by less than 300 votes.
This time around, McPherson is hoping for a better result.
"People in this community have asked me to run virtually every day since the last election. I owe it to myself, my supporters and the citizens of the Municipality of Meaford to create an environment whereby taxes are reasonable, volunteers are valued and respected, and citizens can get answers," McPherson told The Independent after his candidacy was announced by the municipal Clerk.
When asked what he would bring to the position, says that he wants to ensure that residents can afford to live in the municipality.
"I represent the 99 percent. By that I mean the working people and people who need to budget and are on fixed incomes. I understand that people's pockets are not bottomless. I recognize Meaford is at a turning point. And one focus must be on creating added value through processing in the agricultural sector. This is our primary industry and it is time we give it the attention it rightly deserves," offered McPherson.
McPherson said that his primary focus will be to encourage business investment in the municipality, renewing citizen involvement, and "fostering respect and support for all the volunteers and service organizations who do good works within this community.
If elected mayor, McPherson said that roads are an obvious priority.
"Our roads connect each and every one of us and this is a priority across the municipality - better roads and better maintenance."
Other priorities for McPherson if elected include re-engaging residents and volunteers from the community to offer input and expertise to help Meaford function well.
"I will not pursue costly divisive battles with the citizens of our community. I will however ensure the public is informed and is involved. I believe citizen involvement in municipal politics is crucial," explained McPherson. "I want to be a great mayor. I want to be a mayor that listens, understands and works together with citizens to achieve successes in our community. I think we need to create an environment in which the public is served by an open, accessible and accountable Council and Administration."
While it is still very early (candidates have until September 12 to file their nomination papers with the municipal Clerk), McPherson was the second candidate to file their papers for a run at the Mayor's seat, with current councillor Deborah Young having been the first candidate for mayor in 2014. Attempts to contact Young have been unsuccessful at the time of publication.