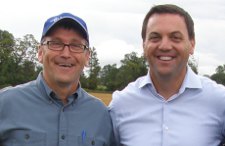 Bruce-Grey-Owen Sound incumbent MPP Bill Walker will return to Queen's Park to represent the riding for another term.
Walker won the riding with 47.58 percent of the vote, with Liberal candidate Ellen Anderson well behind collecting just 27 percent of the vote.
NDP candidate Karen Gventer received just under 16 percent, while Green candidate Jenny Parsons collected nearly 9 percent of the riding's votes.
While Walker had strong support in the BGOS riding, his PC party did not fare as well losing several seats to the Liberal party who earned enough seats to form a majority government.