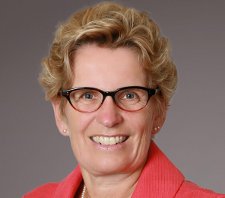 Premier Kathleen Wynne and her cabinet team were sworn in to office Tuesday during a ceremony at Queen's Park, and the new Premier says that she and her cabinet are committed to "leading an open and transparent government that is accountable, fiscally responsible and makes life better for people in every part of Ontario."
Included in her cabinet, which will oversee 23 ministries, are four new members, and as was noted in a press release issued by the Premier's office, the cabinet consists of eight women.
In that same press release, the members of cabinet were introduced as follows:
Charles Sousa returns as Minister of Finance. His primary focus will be balancing the budget by 2017-18. To ensure the people of Ontario can retire in comfort and with dignity, Mitzie Hunter will step into a newly created role as Associate Minister of Finance responsible for the Ontario Retirement Pension Plan.
As Minister of Economic Development, Employment and Infrastructure, Brad Duguid will work to ensure Ontario businesses can grow and create well-paying jobs that people can count on. He will also focus on investing in infrastructure, as it is integral to supporting economic prosperity.
Reza Moridi becomes Minister of Training, Colleges and Universities and Minister of Research and Innovation. In these roles, he will ensure that the skills of Ontario's workforce match the needs of employers today and the economy of tomorrow.
Building new transit, highways, roads and bridges is a key part of the government's plan to address congestion, connect people with jobs and get goods to market faster. Steven Del Duca becomes Minister of Transportation.
The government will also continue to strengthen the province's fundamentals -- education and health care -- to make Ontario the best place to live, from childhood to retirement. To lead these key portfolios, Dr. Eric Hoskins becomes Minister of Health and Long-Term Care. Dipika Damerla becomes Associate Minister of Health responsible for Long-Term Care and Wellness. Liz Sandals returns as Minister of Education.
Glen Murray becomes Minister of the Environment and Climate Change, an expanded portfolio that will ensure Ontario can protect the gains it has made in fighting climate change, lead Ontario's mitigation and adaptation efforts to extreme weather and strengthen its position as a leader in clean technology.
"Premier Wynne is committed to leading an open and transparent government that is accountable, fiscally responsible and makes life better for people in every part of Ontario. Deb Matthews will take on the new role of President of the Treasury Board to champion the government's efforts on openness, accountability and modernization. She will also continue to serve as Deputy Premier," read the media release. "The Premier and her team will immediately put into action the government's plan to create opportunity and foster a more secure future for every person in the province."