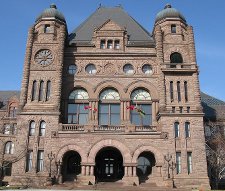 This coming weekend, local members of the Ontario PC Party will be able to vote for their choice of candidate in the upcoming Leadership election on the first of two voting days. Voters can either vote this Sunday (May 3rd) from 11am to 5pm or on the following Thursday (May 7th) from 3pm to 9pm.
Voting in the Bruce-Grey-Owen Sound riding will be held in the North Atlantic Room at the Royal Canadian Legion located at 1450 2nd Avenue West in Owen Sound. 
The two remaining candidates to replace former leader Tim Hudak are Christine Elliott, MPP for Whitby-Oshawa and Patrick Brown, MP for Barrie. Both candidates have visited the riding during the campaign to meet with local supporters and also attended the Leadership Fundraising Dinner that the riding association held last month in Owen Sound. Ms. Elliott also attended the Wiarton Willie Festival this year with Interim PC Leader, MPP Jim Wilson. 
Members who renewed or purchased their membership in the party by February 28th, 2015 are eligible to vote. Membership cards are not necessary but identification documents showing name and address (photo ID preferable) are required to register.  
For more information you can contact the riding association atbgospc@gmail.comor by calling 519-373-5137. More detailed information is also available online at www.bgospc.comorwww.ontariopc.com.