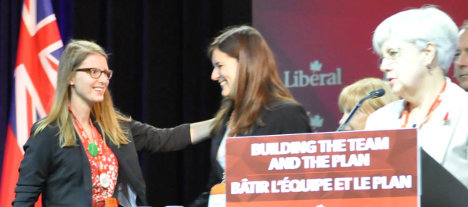 Last week, 24-year-old Kaisha Thompson, a Meaford resident, won a contested race for Treasurer of the Liberal Party of Canada (Ontario). Her successful election makes Thompson the youngest ever official elected to the Executive Board in the organization's history.
Thompson has proven herself in similar roles: first at Carleton University, where as treasurer of her residence, she presided over the largest residence budget in Canada, and later as the treasurer for the Ontario Young Liberals.
Over one thousand Liberals from across Ontario attended the conference and heard from keynote speakers like Justin Trudeau, Leader of the Liberal Party, as well as star candidates in the Liberal fold like Bill Morneau and retired Lieutenant-General Andrew Leslie.
Thompson's race was hard fought, as she challenged the incumbent Treasurer, a chartered accountant who is fifty years her senior. In spite of the differences in age and experience, Thompson enjoyed the strong support of several Members of Parliament and well-known Liberals across Ontario, who were enthused by the vitality and fresh approach championed by Thompson.
"I'm excited about what this election means not only for me but for the Liberal Party," says Thompson. "The membership has put their trust in a younger candidate to manage their finances. I believe – and a majority of Liberals agreed with me – that we need a fresh approach to the way we look at this function in the Party. We really are doing politics differently. So it's very cool to be a part of this change as we head towards the 2015 election."
Thompson is well known locally for her Liberal work. Four years ago she founded a local chapter of the Young Liberals in Bruce-Grey-Owen Sound, she was a founding member of the Board of the local chapter of the Women's Liberal Commission (one of the most active in Canada), and more recently she accepted the role of Campaign Manager for the Kimberley Love Campaign. Love was in attendance in Markham this weekend for the event.
"Kaisha is a dynamic young woman who has worked hard to spread the Liberal message locally, but also at the provincial and national levels. We're so proud to have her on our team and to have her represent us at the Executive Board," says Love.
Thompson has an Honours Bachelor of Arts degree in Political Science, a Masters degree in Aboriginal Studies, and is a second-year law student at Queens University. Already a veteran of 15 political campaigns, she also managed the nomination campaign for Love.
Thompson will continue in both roles while in Kingston where she attends law school at Queen's University.