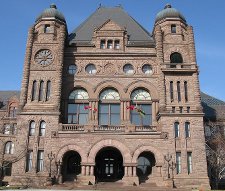 Bruce-Grey-Owen Sound MPP says that "Ontario's fiscal mess is moving toward a climax." With the release of the provincial budget on April 23, Walker says that the Liberal government faces a clear choice, "it can keep digging a bigger debt hole and making deeper cuts to public services, or it can turn a page after 12 years of mismanagement."
"The decision they have to make is kind of simple," he says. "They owe a lot of money, and are paying interest payments of about $30,000 per day or $11 billion a year, money that could be providing frontline care and services.
"If this government wants to avoid making further cuts to education, health care and social services, then it has to commit to get its spending under control," says Walker.
To help guide them, his party has laid out five budget asks for the province, which aim to boost jobs and job security, protect the family pocketbook, and restore health care services that are slowly disappearing from local communities.
"Our recommendations to the government are to walk away from the unaffordable Carbon Tax, as it's another tax on everything and people can't afford it; to forego the unaffordable Ontario Retirement Plan, as it adds financial burden on workers and businesses; to commit to reducing hydro rates so we no longer have to pay the highest energy costs in North America and lose even more manufacturing and jobs; and to commit to fixing home-care by tying CCAC funding to outcomes and clearly defined results," says Walker.
Finally, he adds, the PCs want the Liberals to call-off their plan to sell a majority stake in Hydro One to get out of its $11-billion deficit mess.
"Let's get real. This money will get them out of the deficit mess for one fiscal year, perhaps in 2017-18, and so it's short-term gain for long-term pain," he says. "Such tactics are unsustainable in the long-run, as they will run out of other public assets to sell to finance their spending habits, and what will happen then? Unless they get their spending under control, there will be no real solution."
Most importantly says Walker, the sale of a majority ownership in Hydro One will cut government revenue and drive hydro rates up even higher for consumers.
"This move will hurt every ratepayer in Ontario, no doubt about it and will be yet another Liberal boondoggle," suggests Walker.