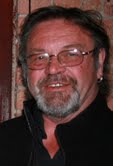 On Sunday evening, July 27 we lost our David: a gentle, genuine, and loyal soul.
A man with an unsinkable sense of humour and wit, he will be missed by every person lucky enough to know him. David gave so much of himself to each and every one of us.
An accomplished artist, cook, home renovator, history buff and highly respected teacher. He was especially a proud father. David did all things well.
Dave was born in Greasbrough, South Yorkshire (1948) to Joan Skelton and Tony Johnston.
Playing cricket and soccer in his youth was his passion and as he would say:
"I had my moments". He was always a proud Yorkshireman and Leeds United supporter throughout his forty years in Canada. Scotch was his drink and the Montreal Canadiens his team.
David loved living the past two years on the south shore of Nova Scotia but too short a time it was.
The good memories and good times will be forever remembered and cherished by his wife Kerry Riley of Blue Rocks, NS and daughter Morgyn Johnston, Toronto; sister Lindsay Johnston as well as niece Lisa Wright (Shawn, Josh & Jake) and nephew Jamie Johnston (Claire, Amelia, Ryan, Megan), South Yorkshire. Also the Riley clan in Toronto and New Brunswick and best buddies in Ontario, the UK and
New Zealand.
A very special light has been extinguished but "the flame still burns"!
Special thanks to the many nurses on the 4th floor medical unit SSRH for their care, compassion and wisdom, especially Sue Zwicker, Shauna MacLean and Andrew Monroe as well as Louise Blackie and Doctors Dave Abriel, Mada Nestel and Heather Robertson.
In lieu of flowers, donations may be given to South Shore Palliative Care and the David Suzuki Foundation.
According to Dave's wishes cremation has taken place and there will be no service.
"Warm afterglow, how discretely you flow, casting twilight's halo, on the dimming day. Calm afterglow, bathing each hill and hedgerow in a scarlet shadow, slipping slowly grey."