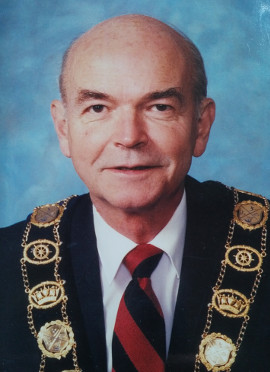 July 29, 1926 – Aug 20, 2016
Passed away peacefully in his sleep, at home, surrounded by his grown children, just a few weeks after his 90th birthday. He was predeceased by his beloved wife Bert, whom he now joins to live with in eternity.
Born and raised in Toronto, he attended Forest Hill High School and enrolled in the University of Toronto after the war. He and Bert were married in 1950, and in 1955 moved to Meaford to manage Paul's Hotel. Gord loved his adopted home town of Meaford, and was proud and humbled to eventually become its longest serving Mayor.
He will be missed by his sister, Barb Green of Meaford; son Chris of Vancouver; son David and daughter-in-law Elizabeth of Chelsea, Quebec; son Michael and daughter-in-law Janice of Comox, BC; and daughter Mary Margaret and son-in-law Tony of Clarksburg, and Tony's two sons, Kyle and Tyler. He will be fondly remembered by grandchildren Jacqueline, Mark, Michael, Claire and Ally.
A celebration of Gord's life is being planned for Meaford Hall this Friday, August 26, from 4:00-6:00 pm, in the old Council Chambers. All are welcome.