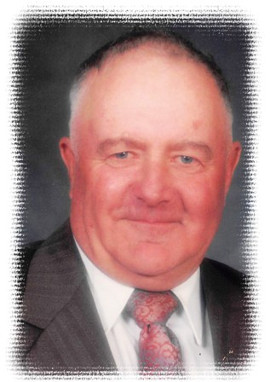 Born in Meaford on April 18, 1931, a son of the late Paul and Olive (née Yeadell) Abercrombie, Don passed away at University Hospital in London on September 7, 2016 at the age of 85.
Don is survived by his beloved wife Phyllis (née Johnstone) Abercrombie of Meaford with whom he would have celebrated 60 years of marriage on September 15th of this year. The couple met at Woodford at a Young People's event and were later married in Annan on September 15, 1956 and farmed together for many years, raising their children and finally retiring to Meaford.
Don is remembered as the loving father and Dad of Gayle and her husband David Milliner of Dundalk, Shirley Abercrombie of Whitehorse, Yukon, David Abercrombie of Fort Frances, Glen Abercrombie and his wife Cathy of Ariss and Sandra and her husband Rick Lawler of Markdale.
Don was a devoted grandfather to Ashleigh and her husband Neil Cowan of Grand Valley and great grandfather to their son Weston; Lynsey Milliner of Mt. Forest, Grant Milliner of Dundalk, Jacob and Sarah Abercrombie of Ariss, Christine Lawler of Waterloo and Mark Lawler of Markdale.
He was predeceased by his sister Helen and her husband Grant Weaver of Sunnyside Beach, Meaford and will be remembered fondly by their family.
Don's family received friends at the Ferguson Funeral Home in Meaford on Monday afternoon and evening and funeral services officiated by Rev. SallyAnn Longfellow were conducted at Meaford United Church on Tuesday September 13th at 11 a.m. Helen Crowston and Roger and Lora Dinsmore provided a special ministry in music during the service. Don's children and grandchildren shared personal reflections of their father and grandfather noting his distinct work ethic, his honesty and integrity which characteristics he instilled in all his family leading by his actions and word. He was recalled as a humble man but one who was immensely proud of the accomplishments of his family and indeed, one who celebrated not only their successes but also the successes of any friends and neighbours in his community.
Reflections of family life on the farm and all the lessons that were learned there set a lasting impression on the children and the grandchildren who recalled his excellent teaching skills both with operations on the farm and life itself. His humour was always present and his love of all things red, especially is favourite McCormick W4 tractor was his trademark passion.
Although an extremely busy and successful farmer, Don always had time for his community and church. He was an active volunteer with the Riverside Community Centre Board, The United Church Men's Breakfast Group, the "OFA" and Ontario Pork Producers, as well as the local Fall Fair Board. His family concluded that he was indeed a man who simply inspired them to do their best in every aspect of their lives.
A family service of committal and interment followed at Lakeview Cemetery with flower bearers being granddaughters Sarah Abercrombie, Christine Lawler, Lynsey Milliner and Ashleigh Milliner-Cowan. Serving as pallbearers were grandsons Mark Lawler, Jacob Abercrombie, Grant Milliner, grandson-in-law Neil Cowan and sons-in-law Rick Lawler and David Milliner.
Friends gathered with Don's family in the fellowship hall of the church following the service for a time of sharing further remembrances of Don.
If so desired and as your expression of sympathy donations to the Meaford United Church (Boiler Fund) or the Heart and Stroke Foundation would be appreciated. www.fergusonfuneralhomes.ca